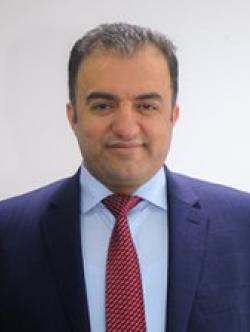 Dr Amer Bani Amer
Founder and General Director
Founder and General Director of Al-Hayat Center - Rased, which was established in Jordan in 2006. Dr. Bani Amer has worked with governmental and non-governmental organizations through many projects. These include coordinating a national dialogue within Jordan on the parliamentary election law, and representing civil society in national dialogues on provincial and municipal councils with the Jordanian parliament and several national ministries. In addition, Dr. Bani Amer was instrumental in designing and launching a program to help develop the Comprehensive National Plan for Human Rights (2016-2025), in cooperation with the Ministry of Communications and the Ministry of Public Sector Development
Dr. Bani Amer holds a Bachelor's and Master's degrees in Engineering and Urban Planning and a Ph.D. in Public Participation in Decentralization and Local Administration.
Dr. Bani Amer constantly calls for mainstreaming the gender perspective in politics and in other fields, and focuses on designing community programs to build women's capacities and enable them to reach societal leadership positions. During the period 2009-2019, Al-Hayat Center - Rased worked with more than 600 female members of the elected local councils in Jordan, which in turn integrated more than 20,000 female activists in the local community, where many of these women received grants and guidance to implement service projects in their local communities .
Dr. Bani Amer is also a certified trainer for several NGOs, working with the National Democratic Institute, the German Foundation for International Cooperation, the Global Partners Organization, the Heinrich Böll Foundation, the Carter Center, and the Organization for Economic Co-operation and Development, in addition to local organizations in Jordan, Tunisia, Egypt, Libya, and Morocco. Sudan, South Sudan, Iraq, Algeria and Kuwait.
Dr. Bani Amer is a member of several local and international bodies, including: the Civil Society Coordination Organization in Jordan, the Jordanian-Asian Coalition for the Universal Periodic Review of Human Rights, the Arab Network for Election Monitoring, the Regional Network for Sustainable Development and Human Rights, the Board of Directors of the GENDM Network, and the Civil Society Group for Activating Government Transparency, Experts in Protecting NGOs from Money Laundering and Terrorist Financing, Global Nonprofit Alliance, International Leaders Forum with the US State Department's International Leadership Program.
Dr Amer Bani Amer